FEATHER WATCH
Aftermath
Have you forgotten yet?......
For the worlds events have rumbled on since those gagged days,
Like traffic checked while at the crossing of city-ways::
And the haunted gap in your mind has filled with thoughts that flow
Like clouds in the lit heaven of life; and you're a man reprieved to go,
Taking your peaceful share of ,Time, with joy to spare.
But the past is just the same — and War's a bloody game….
Have you forgotten yet?....
Look down, and swear by the slain of the War that you'll never forget.
Siegfried Sassoon
I wonder how the wildlife lived through the carnage and upheaval of WW1. Poets wrote of the skylark that was heard above the din of battle, but what of the swifts and swallows and the rest that came back to nest?
Have we learn from those far-off days how to help and protect nature? One hundred years later there is much to do. Come on folks! We can all help, perhaps by collecting plastic waste on walks to and from school, by keeping an eye out for fly-tipping which costa millions of pounds each year to clear up or by putting a bird table and nest boxes in the garden to help birds through the harsh winter weather . Remember ,every little helps.
When I was young ,gulls eggs with celery salt were a great delicacy in smart fish restaurants. They were sold at £5 per half dozen. With the council in Worcester paying £30.000 for their removal from rooftops need I say more?
During the start of the long winter nights, urban foxes will be looking for a mate and the eerie cry of the vixen can often be heard. One can also hear the hoot of the tawny owls looking for new territory and a partner to pair up with for the spring.
This autumn on the Hills and around there are charms of colourful goldfinches that can be seen hunting for seeds in our gardens and sometime in supermarket car parks. Large numbers of fieldfares and redwings are arriving from Scandinavia to feed on plentiful berries and fruit. Make a walk in the countryside first on your list at this wonderful time of the year.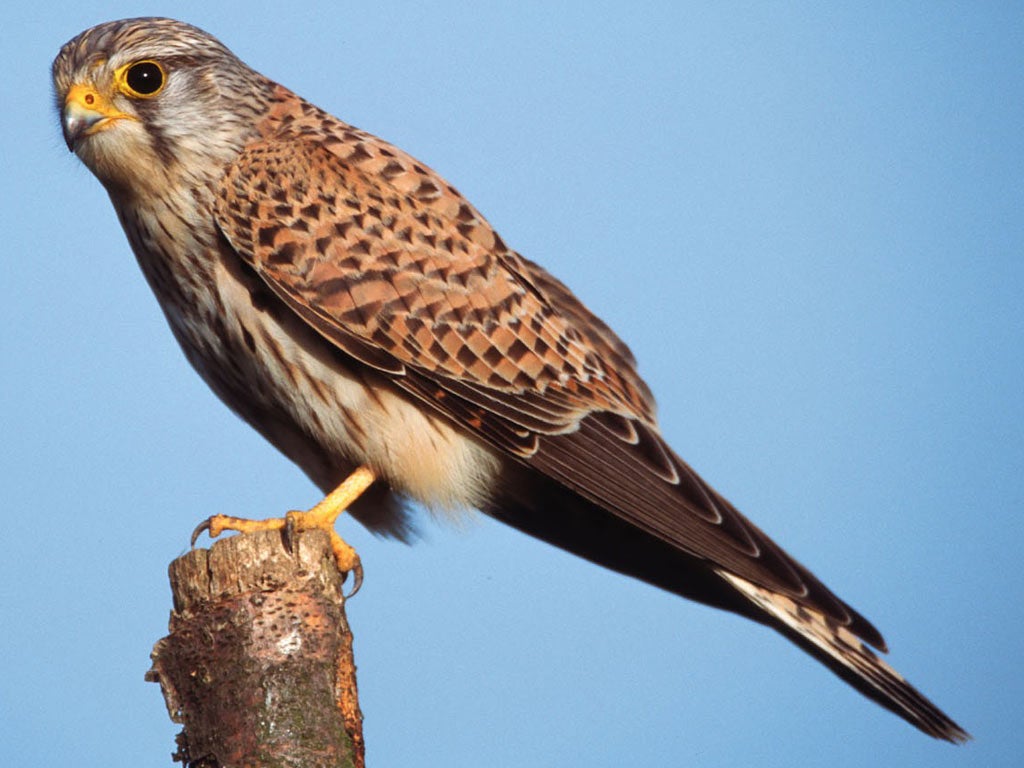 Gatekeeper Kestrel Stonechat Speckled Wood
Up on the Beacon a kestrel dropped out of the sky and landed a few feet from me, on the look-out for a morsel for its young in a nest nearby. This beautiful bird can pin-point a possible meal from 400ft up. Its country name is 'windhover'. Stonechats and meadow pipits are nesting again, but skylarks are in short supply this season.
In the BBC's recent 'Springwatch' series, viewers saw how challenging the natural world can be for many people…...young birds being pulled from their nests by predators that also had their own young waiting to be fed. This is how Nature works and has done so since the beginning of time. But when the predators take the eggs and the chicks of a species that is facing extinction, then it is time for us to give our support to the hard working people on nature reserves and estates who, in all weathers, take measures to control the predators and protect these species.
Come on kids! It is time to support the Countryside Alliance, the Game Conservators and your local nature reserves, and help species like the skylark, curlew and red squirrel to survive. Nature needs all the help it can get.
Philip Kedward
"CHURCHYARD CHATTER"
Will it be a boy- or a girl ?

I have consulted the RHS about the gender of our sapling yew-tree. Apparently we will not have the answer until it reaches maturity and produces flowers, these will show either male or female characteristics. However maturity is many many years away, perhaps approaching one hundred, in view of the fact that Taxus Baccata [the Common Yew] can generally grow to be six to eight hundred years old. But we can take comfort in our planting it well away from the church path so that if it turns out to be female our successors will not be troubled by its berries falling on the path.
As we all well know our predecessors got things the wrong way round, resulting in our [sloping] path having the inevitable red sticky coating in late autumn.
So we have no way of knowing what the distant future holds in regard to our yew-tree sapling's gender. However if, just if, we think of the youngsters' parents as Joseph and Mary.....................!
Forty years on.
'Not the Least' The story of Little Malvern by Ronald Bryer tells us at page 77 that "at Christmas 1977 the ancient yew tree was damaged by a gale...." Nature continued to have her way in 2017 when a huge chunk of the said dead yew crashed down and wiped out our white foxglove seedlings. The chunk is now developing into the form of an enormous boot - size 70 ?
Roger
"CHURCHYARD CHATTER"
The Olive.

A
visit to the Spring Garden Festival focused our attention on this wonderful tree. Specimens ranging from pot-plant size to gnarled and twisted veterans [in pots] were on offer. 'In pots' you say ? Yes , specimens many hundreds of years old can be dug up and replanted in appropriate containers, shipped from their native land and will continue to live happily in their new home. They seem to be the 'must-have' patio plant for any-one with several hundred pounds to spare.
The olive is the first tree to be mentioned in the Bible [Genesis 8.11],many subsequent references are to be found. An olive branch is regarded as a symbol of peace, equally 'anointing with oil' continues as a symbol of our Faith. We now have a family connection in that our daughter- in- law's family own olive trees in Canena, Jaen in Spain, very large containers of olive oil are to be found in their kitchens. If you do not want to part with several hundred pounds then why not make a trip to L**L in the LInk where £10 specimens are currently on offer !
Roger.